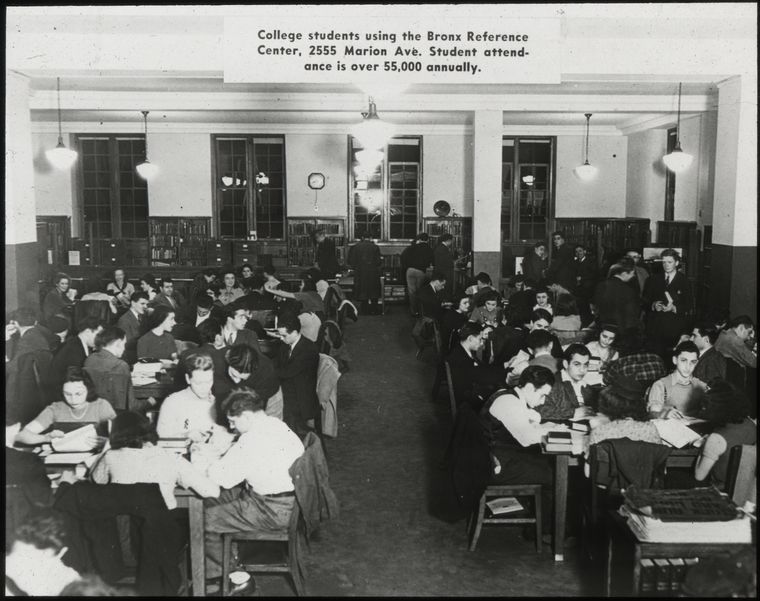 I had been in New York City for exactly six and a half days. A snag with my social security number paperwork had delayed my first day of work as a reference librarian at the New York Public Library (in what is now the Bronx Library Center). It was the middle of summer and I had no phone, no air conditioning, and no actual furniture. The only people I had talked to for more than ten minutes were strangers behind plexiglass trying to convince me that the paperwork I needed was already on its way to me (spoiler alert: it wasn't).
I spent the next few days poking around my neighbourhood in the north end of Riverdale and heading into Manhattan to watch back to back movies in air-conditioned theatres. At least twice a day I walked from my second floor walk up to the pay phone at the bodega three blocks east of my building to check on the status of my paperwork.  By day three, all the shiny prospects of my grand adventure in the big city had dulled significantly, and I was starting to feel despondent and more than a little scared. In an effort to escape the interminable heat, I hopped on the BX1 bus to visit to the library branch where I would work, hoping to cool off and get some advice on my paperwork predicament. I lurked around the branch for awhile, finally working up the courage to introduce myself to the staff at the reference desk. They were warm and friendly, and for the first time in over a week, I felt the knot in my stomach start to release itself. An hour later, after a tour of the branch and armed with recommendations for everything from HMOs to tacos, I was getting ready to step back out into the heat when someone said, "Hang on one more minute — you'll want to meet Renee."

A few minutes later, I was introduced to Renee (Gail) Kotler. Some of the details of that first meeting are admittedly pretty hazy; I can't even remember if she worked at that branch or was just on site for the day. I do vividly remember her approaching me with her broad, beaming smile. Ignoring my outstretched hand, she reached in with a warm hug, shouting a variation of "Hurray! We've been waiting for you!" I'm not sure if she really had a clue who I was, but in that moment, it hardly mattered. What did matter was that, for first time since arriving in New York City, I felt like I was actually going to make it.

Renee became one of my earliest and still to date, one of my best mentors in the library world. She was a constant source of warmth and support as I found my bearings in a new place and in a new profession. As with so many other young librarians in the NYPL system, she took me firmly under her wing, opening up her time, her creativity, and even her home to create spaces of warmth and connection, particularly for those like me who were far from home. It was Renee who encouraged or rather, insisted, that I apply for a job in the Office of Reference Services even though I only had a year of experience in the branches. That position opened up the chance for me to take on work that I know was instrumental in landing a full-time position in the York University Libraries. In that sense, it was Renee who helped me find my way back home.
She embodied so many of the qualities that I really admire: she was smart, engaged, funny, constantly curious, fiercely passionate about her family, her community, the fine arts and causes she believed in. Her boundless energy was matched only by her kindness. She loved and worked with her whole heart, smiled with her whole face, and made everyone around her feel like they mattered. She made librarians better, and she made libraries better. I'm grateful to have known and worked with her. She will be deeply missed.