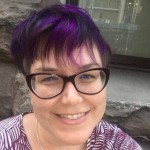 I am a librarian at York University Libraries  in Toronto, Canada.  I have recently started a five year term as Director, Content Development & Analysis Department.  In that capacity, I provide leadership and and direction to the Department in establishing the strategic priorities for all aspects of content development at York Libraries.
I wear a few other hats too:  I'm a mom, a partner, a sister, an aspiring activist (mostly in my head), and a churchwarden. I like fresh notebooks, good ideas, craft beer, decent and kind people, Jesus, bitter vegetables (especially rapini) and labour unions.
I can be reached at patti@pattiryan.ca
© Patti Ryan, 2015-2018. 

All content on this site is licensed under a Creative Commons Attribution 4.0 International License.